At Osborne Homes, we understand that selling a home can be a long and stressful process. That's why we offer a unique solution for homeowners looking to sell their home quickly and with minimal hassle. With our house buying service, we can close on a home in as little as 7 days, compared to the traditional market which can take anywhere from 60-120 days.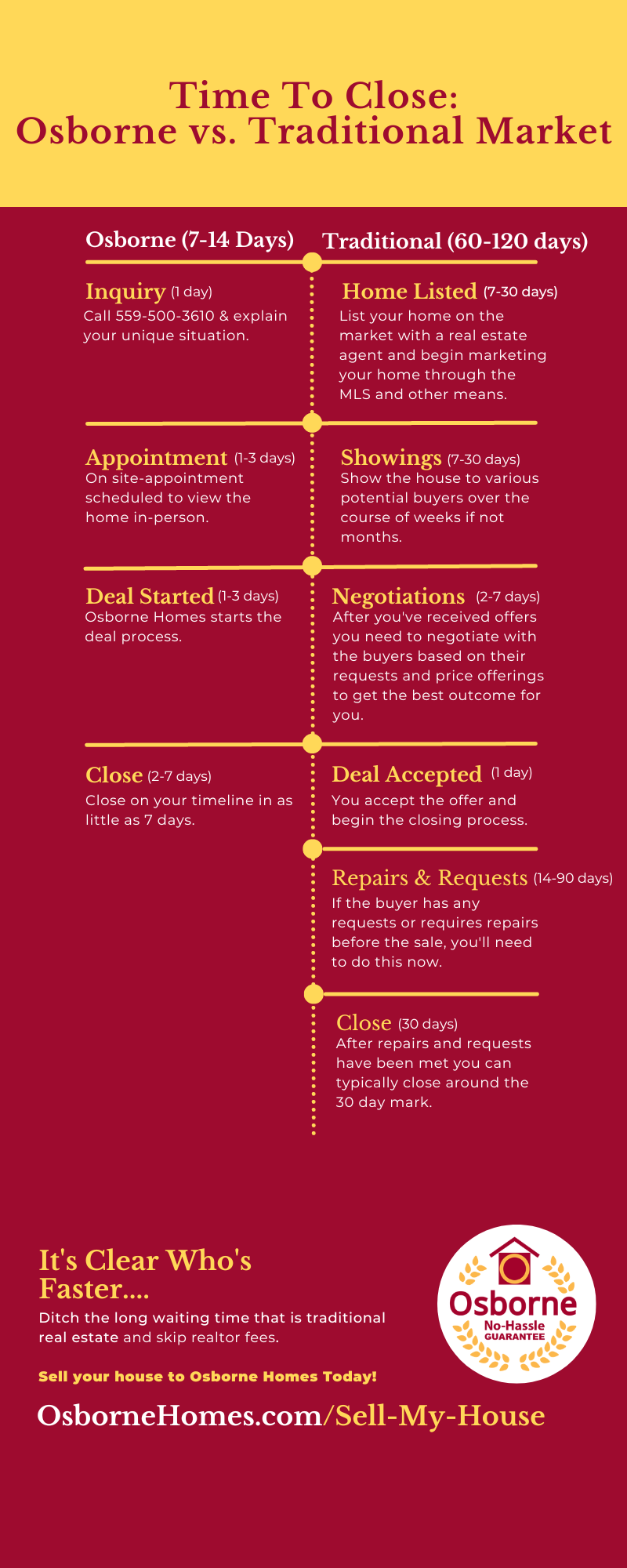 Our process is simple!
Osborne Homes House Buying Process
Our process is simple and we've intended to keep it that way, to eliminate any extra stress that may come with a home sales process.
1. Inquiry
First, give us a call at (559) 500-3610 and we'll ask you about your reason for wanting to sell the home. Maybe you're facing foreclosure, need to relocate quickly, or simply want to sell your home without the hassle of listing it on the traditional market. Whatever your reason, we're here to help. Our team of experts will listen to your situation and provide a solution that best fits your needs.
2. Appointment
Next, we'll schedule a home visit with one of our representatives. This visit typically takes 1-3 days and is an opportunity for us to see the property in person.
Our representative will walk through the property with you, and ask you any questions they may have about the property, like the age of the roof, appliances, HVAC systems, and any repairs that are needed. From this point on, we'll take the additional information and perform market research and start the deal process.
3. Deal Discussion
After the home visit, our representative will prepare a deal for you and present it to you using the information obtained from the home appointment.
4. Close
If you accept the proposed deal, you can close on the home within 2-7 days. That's it!
No need to list the home, no need to wait for months for a buyer to come along, and no need to worry about the usual stresses that come with selling a home.
We handle everything from the paperwork to the closing process, so you can sit back and relax.
The traditional market is slow! Sell your California home to Osborne Homes today!
Give us a call at (559) 500-3610 or send us a message in the form below and we'll help you with the home selling process!
From foreclosures to rental properties with tenants that are living there, we'll buy them all and close just as fast and always on your timeline.