We Buy Houses in
Hayward, California
Facing challenges selling your Hayward home? Osborne Homes offers a quick, all-cash solution, sidestepping those typical Hayward hurdles to ensure a hassle-free sale for you.
The Simplified Osborne Approach
Navigating the Hayward real estate market can feel overwhelming, but with Osborne Homes, it's as easy as 1, 2, 3! Our streamlined approach ensures you get the best value for your home without the stress and complications.
Contact Our Team
Kickstart your home-selling journey by reaching out to our friendly Hayward experts. We're here to understand your needs and guide you through each step.
Virtual Appointment
Unlike other "We Buy Houses" companies, we don't nickel and dime you for damages on your home, or charge you any visitation fees. We keep this step straightforward and to the point.
Close and Take Your Money!
Finalize the deal at your pace, and once done, walk away with your cash. No hidden fees, no waiting for months - just a straightforward process.
Take the Osborne Solution
Hayward homes come with their unique character and challenges, from aging historic properties to homes in need of significant repairs. Whatever the case, Osborne Homes sees potential in every property. Our experience in Hayward ensures that no matter the state or situation of your home, we're here to make you a fair cash offer.
Older, Historical Homes
Hayward boasts a rich history, and with that come older homes needing careful maintenance. If you have a historical home that feels like a burden, Osborne buys these gems, preserving their legacy.
Tenant-Occupied Properties
Managing unruly tenants or waiting for a lease agreement to end can be tedious. If you want to sell a tenant-occupied property, Osborne can handle the transition seamlessly.
Foreclosed Properties
Facing foreclosure is daunting. Before it's too late, Osborne Homes can offer a quick, hassle-free way out, giving homeowners peace and financial relief.
Properties in Need of Repair
Deferred maintenance can accumulate, turning your home into a project. Whether it's wear-and-tear or major damages, Osborne Homes is interested, no repairs required.
Houses Near Busy Areas
Hayward's bustling zones can make some properties less desirable for traditional buyers. Osborne Homes, however, is more than willing to purchase these strategically-located homes.
Homes Affected by the Economy
With the fluctuating economy, many homeowners in Hayward find themselves in tricky financial situations. Osborne offers a solution, purchasing homes quickly regardless of your economic standing.
Ready to Lift the Weight Off Your Shoulders?
With Osborne Homes, selling your unique Hayward property is a straightforward process. Whatever your situation, let's turn it into a winning one.
The High Price of Home Repairs in Hayward
Hayward homeowners know too well how repair bills can quickly add up. The Golden State's housing age combined with Hayward's unique challenges means costly fixes. But here's the good news: with Osborne Homes, you can skip the repair and still sell at a fair price.
Hayward's rainy season can be brutal on roofs. Water damage, leaks, and wear from the elements make roof repairs both common and expensive.
Electrical System Updates

$4,200
Outdated electrical systems in older Hayward homes can pose safety hazards, necessitating upgrades or complete rewiring to meet current standards.
Due to the city's age and the ground it's built on, foundation issues are frequent. Repairs can be extensive, often involving significant excavation and restructuring.
Older pipes and systems in many Hayward homes mean frequent plumbing issues, leading to replacements and overhauls that can dent your wallet.
Instead of pouring cash into these fixes, why not sell as-is? 
Save your money and your sanity—contact Osborne.
Immediate Financial Relief
One standout advantage of choosing Osborne Homes? Receiving an instant cash offer! No waiting for bank approvals or getting entangled in lengthy escrow processes. It's about immediate financial empowerment, putting you back in control. 
Your Priorities,

Our Commitment
At Osborne Homes, you're not just another transaction. You're our neighbor, our community. We prioritize your needs, concerns, and timelines, ensuring the selling process aligns with what's best for you.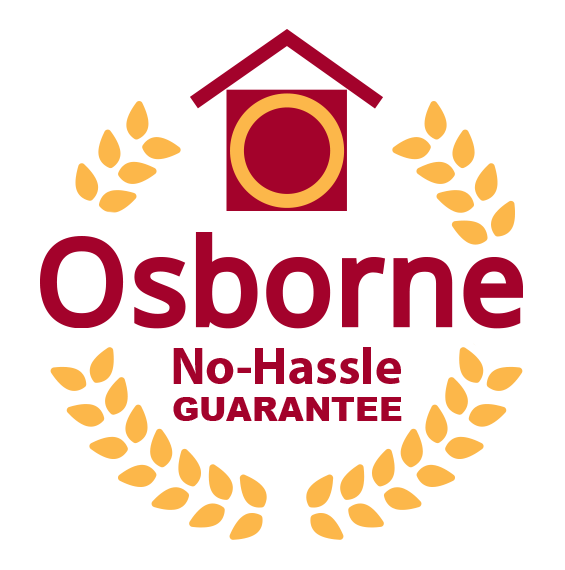 Sell My House Hassle Free!
Gone are the days of complex paperwork and months on the market. With Osborne Homes, selling your Hayward home is as easy as 1-2-3. We handle the heavy lifting so you can move forward, hassle-free.
California's Trusted
Home Buyer
Osborne Homes isn't just any cash buyer; we're California's top choice. The reason? Our integrity, transparency, and glowing reviews from homeowners across the state stand testament to our unparalleled service.
Frequently Asked Questions
Navigating home sales in Hayward can be filled with uncertainties. We've compiled the most common questions homeowners have about selling to Osborne Homes to make things clearer for you.
How quickly can Osborne Homes buy my house?

Typically, we can close deals in as little as a few weeks, depending on your preferences and the specifics of your property.

Do I need to make repairs before selling?

No, we buy homes in their current condition. No need to make expensive repairs or renovations.

Are there any hidden fees or charges?

Absolutely not. Our process is transparent, with no hidden fees or charges.

How do you determine the offer price for my home?

Our experienced team assesses the current market conditions in Hayward, the condition of your property, and other relevant factors to provide a fair offer.
Why should I choose Osborne Homes over a traditional realtor?

With Osborne Homes, you skip the lengthy market listing process, avoid agent fees, and get a quick, all-cash offer without any hassles.

What types of properties do you purchase?

We buy all types of homes, from single-family units to multi-family properties, condos, and even homes with structural or legal issues.

Is my information kept confidential?

Yes, your privacy is of utmost importance to us. All information shared with Osborne Homes remains confidential.

What if I have more questions?

Our team is always here to help. Feel free to reach out to us anytime for any further queries or clarification.
Selling your home in Hayward doesn't need to be complicated. With Osborne Homes, you get a straightforward, honest approach. Fill out this form for your first step towards a stress-free home sale.