We Buy Houses in
El Monte, California!
Facing challenges selling your El Monte property? Osborne Homes can help. We buy houses in any condition, quickly and for all cash. No more waiting, no more repairs—just a fast, hassle-free sale.
Simple and Stress-Free: Our 3-Step Home Selling Process
Selling your El Monte home has never been this easy. With Osborne Homes:
Get in Touch with Us
Starting your home selling process in El Monte is just a call away. Connect with our friendly team to understand your options.
Virtual Appointment
Unlike other "We Buy Houses" companies, we don't nickel and dime you for damages on your home, or charge you any visitation fees. We keep this step straightforward and to the point.
Close Fast and Walk with Cash
Bypass the long waits of traditional sales. With Osborne Homes, finalize the deal promptly and get your deserved cash immediately.
Addressing El Monte's Unique Housing Challenges
At Osborne Homes, we understand the housing concerns El Monte homeowners face. Whether it's an older property or one in a flood-prone zone, we're ready to buy. We specialize in acquiring various types of homes, ensuring a smooth selling experience for you, no matter the situation.
Older Properties in El Monte
Many homes in El Monte carry the charm of the past but can also come with aging issues. Whether it's outdated designs or old plumbing, Osborne is keen on purchasing such properties without requiring you to make any upgrades.
Homes Near Noisy Highways
For homes affected by the city's bustling traffic, Osborne offers an easy escape. You don't have to worry about potential buyers deterred by noise. We'll handle it all.
Flood-Prone Homes
El Monte's occasional flood concerns can make selling tough. But with Osborne, your flood history won't stop us from giving you a fair offer.
Properties with Outstanding Liens
Dealing with liens can be a hassle for homeowners. Osborne understands this and is ready to buy your property, handling the intricate paperwork that comes with it.
Homes Needing Significant Repairs
From leaky roofs to foundational issues, Osborne doesn't shy away. Sell your house in its current condition, and we'll take care of the rest.
Vacant Homes
If you have a home sitting idle, Osborne is your go-to buyer. We help you turn that empty property into instant cash.
Tired of waiting for the right buyer? With Osborne, there's no waiting, no uncertainty, and no stress. Turn your home situation into a solved situation.
Tackling Home Repairs in El Monte
El Monte homeowners often face the weighty decision of investing in home repairs before selling. Here are the most common home repairs in El Monte.
In El Monte, weathering can wear down roofs over time. Roof replacements aren't just a huge inconvenience but also heavy on the pocket.
Shifting soil and water issues in El Monte can compromise home foundations. Repairing this is essential for a traditional sale but costs a significant amount.
HVAC System Replacement

$4,000
With El Monte's varied temperatures, a fully functional HVAC system is vital. Aging systems often need replacements, adding more expenses for homeowners.
Older homes in El Monte sometimes grapple with plumbing issues. From leaks to outdated systems, addressing these problems can be both time-consuming and costly.
You can forget about making repairs when you choose Osborne!
Immediate Financial Relief
Selling to Osborne Homes isn't just about convenience; it's about financial empowerment. Step into a stress-free selling experience that lands cash in your hands without the usual waiting game.
At Osborne Homes, we understand every homeowner's unique journey. Our approach is always tailored to your situation, ensuring that you're not just another transaction, but a valued individual.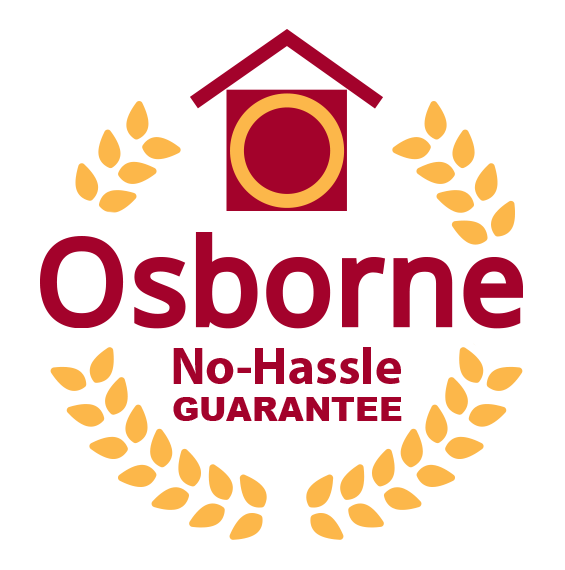 Sell My House Hassle Free!
Why get caught in the endless loop of traditional home selling? Osborne Homes offers a clear, efficient path from listing to sale, freeing you from uncertainties.
Unrivaled Reputation in

California
With countless successful sales and satisfied homeowners, Osborne Homes has established itself as California's top cash home buyer. Don't just take our word for it—our glowing reviews attest to our unmatched service.
Commonly Asked Questions About Our Process
Navigating the sale of a home can spark many questions. We've addressed some common queries El Monte homeowners have when considering Osborne Homes.
How quickly can Osborne Homes buy my property?

We typically close deals in as few as a few weeks, depending on the specifics of the property and your preferences.

Are there any hidden fees or commissions?

No, selling to us means you avoid traditional realtor commissions and there are no hidden fees.

Do I need to make repairs before selling?

No! We buy homes in their current condition. No need to spend on repairs or renovations.

How do you determine the offer price?

We consider various factors like the property's condition, location, and current market trends in El Monte to make a fair cash offer.
Is the sale process confidential?

Absolutely! Your privacy is paramount. All details of the sale remain confidential.

What types of homes does Osborne Homes buy?

We buy all types of homes, regardless of size, condition, or situation, especially those common in El Monte.

Why should I choose Osborne Homes over a traditional realtor?

Our process is faster, easier and you receive a cash offer without the uncertainties of traditional sales.

How does the home assessment work?

Once you reach out, we'll schedule a convenient time for the assessment to view and evaluate the property.
Don't let home-selling woes weigh you down. With Osborne Homes, a seamless, fast, and fair cash deal is just a click away. Ready to transform your property challenges into solutions?