We Buy Houses in
Lancaster, California!
Tired of the Lancaster selling hurdles? Osborne Homes purchases properties fast, without any fuss, offering you an all-cash solution. Say goodbye to long waits and say hello to immediate offers.
Simple, Stress-Free Selling with Osborne
Osborne Homes understands the unique challenges of selling in Lancaster. Our streamlined three-step process ensures you can move on without the typical complications:
Reach Out to Our Experts
Begin your quick and easy selling journey with our approachable experts, eager to guide you through every step.
Virtual Appointment
Unlike other "We Buy Houses" companies, we don't nickel and dime you for damages on your home, or charge you any visitation fees. We keep this step straightforward and to the point.
Finalize the Deal and Get Cash in Hand!
Seal the deal swiftly and wave goodbye to long waiting periods. Your deserved cash awaits you.
We Buy All Homes

in Lancaster
No matter what's going on with your home, even if it's aging and in need of repair, Osborne Homes has experience buying all kinds of homes in Lancaster. We want to buy your home just the way it is.
Aging Homes in Older Neighborhoods
Many of Lancaster's older neighborhoods house properties that show the wear and tear of time. Osborne Homes understands the charm and potential in these homes, offering fair prices without demanding renovations.
Homes with Large Lots
Lancaster boasts homes with generous lots, which can be daunting for potential buyers. Osborne Homes sees the value in these spacious properties, making offers that reflect that potential.
Foreclosed Properties
Facing a foreclosure in Lancaster? Osborne Homes can step in swiftly, providing an all-cash offer, helping homeowners move forward without the long-term financial scars.
Vacant Homes
Empty properties can become a liability. Whether you've inherited an empty home or moved for work, Osborne Homes can help turn that vacant property into cash quickly.
Homes with Legal Complications
Legal entanglements can stall a sale indefinitely. Be it liens, title issues, or other challenges, Osborne Homes has the expertise to navigate these situations, providing a hassle-free selling experience.
Outdated Homes
Properties stuck in a bygone era can be hard to market. But at Osborne Homes, we see the potential beneath the dated decor, ensuring you get a fair price without the need for costly updates.
Don't let the unique challenges of Lancaster's housing market hold you back. With Osborne Homes, selling is as simple as reaching out. Unlock the value of your property today.
The Real Costs of Home Repairs in Lancaster
Every homeowner in Lancaster knows the mounting expenses of home maintenance. With the city's unique climate and older homes, specific repairs can be quite pricey. Here are some of Lancaster's most common, and often priciest, home repairs.
Lancaster's sunny days can take a toll on roofing materials. Over time, tiles crack and shingles fade, leading to potential leaks. A comprehensive roof repair isn't just expensive; it's time-consuming and disruptive.
HVAC System Replacement

$5,000
The desert climate means a working HVAC system is essential. But when these systems age or break down, replacements can dig deep into your pockets, not to mention the inconvenience of living without proper heating or cooling.
Foundation Repairs

$10,000
Older homes in Lancaster may face foundation issues due to shifting desert soils. Addressing these foundational concerns is vital for safety but can come with a hefty price tag.
Water Damage Repairs

$2,500 - $7,000
Unexpected leaks or flash floods can lead to significant water damage. Repairing this damage involves not just fixing the source but also addressing mold, wall repairs, and sometimes even flooring replacements.
Skip the repair headaches and hefty bills. 
Reach out to Osborne and keep your money where it belongs: with you.
Immediate Cash, Zero Hassle
One of the benefits of selling to Osborne Homes is our promise of instant liquidity. Forget the agonizing wait of traditional sales; we ensure you get cash in hand immediately after the sale. Secure your financial future now.
At Osborne Homes, you're not just another sale; you're family. We understand the unique circumstances and challenges each homeowner faces. That's why our approach is tailored to prioritize your needs, ensuring a seamless and personalized experience.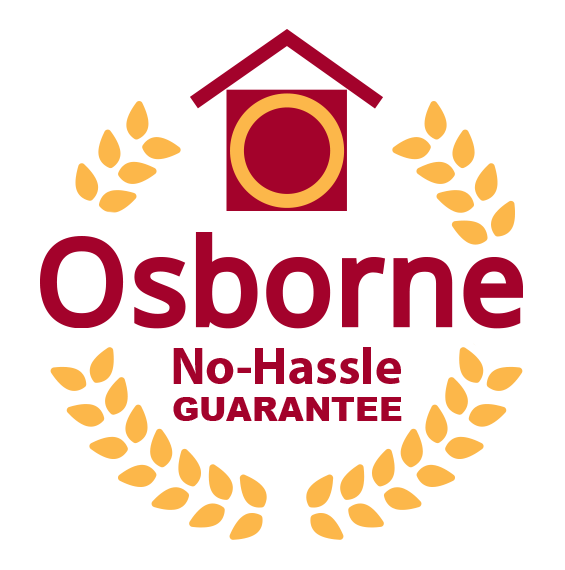 Sell My House Hassle Free!
Effortless Home-Sale Journey
Dread the idea of lengthy property listings, countless home showings, or haggling over price? With Osborne Homes, those concerns are history. Our streamlined process ensures selling your Lancaster home is as easy as 1-2-3. Embrace simplicity.
Unbeatable in the

Golden State
Why choose Osborne Homes? Because we are California's top-rated cash home buyer. Our legacy of trust is cemented by countless positive reviews from homeowners just like you. Experience the best in business, and let our reviews tell our tale.
Navigating Your Concerns: FAQs
We get it, selling your home is a significant decision and you've got questions. We've compiled some of the most frequently asked questions by Lancaster homeowners to provide clarity.
How quickly can I sell my home in Lancaster to Osborne Homes?

Typically, our process moves pretty fast; we can close deals in as little as 3 weeks, depending on your preferences and the specifics of the property.

Do I need to invest in home repairs before selling?

Absolutely not. We buy homes in "as-is" condition. Save your money and let us handle the rest.

Are there any hidden fees when selling to Osborne Homes?

No, we pride ourselves on transparency. There are no hidden fees or commissions when you sell to us.

How do you determine the value of my home?

Our team considers various factors, including the home's condition, location, and current market trends in Lancaster, ensuring you receive a fair offer.
I'm facing foreclosure; can Osborne Homes still buy my property?

Yes, we specialize in assisting homeowners in challenging situations, including foreclosure. Reach out to us promptly, and we'll guide you through the process.

Is my information kept confidential?

Absolutely. We prioritize your privacy, ensuring all details and conversations are kept strictly confidential.

Why should I choose Osborne Homes over a traditional real estate agent?

With Osborne Homes, you bypass lengthy listing periods, avoid agent commissions, and experience a fast, stress-free sale. Plus, we offer an all-cash transaction.

What if my home in Lancaster is currently rented?

No problem! We handle properties in various situations, including those with existing tenants. We'll discuss the specifics and work out a solution tailored for you.
Unlock the easiest home-selling experience in Lancaster with Osborne Homes. Your peace of mind is just a call away. Don't delay, sell today.