We Buy Houses in
Palmdale, California
Tired of the desert heat or just totally over the Palmdale market challenges altogether? At Osborne Homes, we purchase homes in Palmdale, closing fast and offering you an all-cash deal. No need to worry about renovations or market fluctuations—just a simple, straightforward sale.
Selling Made Simple with Osborne
With Osborne Homes, selling your property in Palmdale is as simple as 1, 2, 3. 
Contact Us Today
Starting your home-selling journey is just a call or click away. Our friendly team is eager to learn about your property and guide you through the process.
Virtual Appointment
Unlike other "We Buy Houses" companies, we don't nickel and dime you for damages on your home, or charge you any visitation fees. We keep this step straightforward and to the point.
Close!
The best part? We prioritize a quick and easy closing, meaning you get to enjoy your earnings without unnecessary delay.
Every Home is an

Opportunity
In Palmdale, Osborne recognizes the unique beauty and potential of each home. Whether it's a pristine residence or one needing a bit of TLC, we're interested. Our approach is to buy homes in any condition, allowing homeowners to sell without the stress of renovations or repairs. Your home's story matters to us.
Older Homes with Outdated Features
Palmdale is dotted with charming homes that take you back to earlier decades. While they carry a rich history, these older properties may lack modern amenities. Osborne buys these homes, understanding their inherent value, regardless of the age or outdated features.
Properties with Past Water Damage
Due to occasional heavy rainfalls or plumbing issues, some homes in Palmdale may have experienced water damage. Whether it's mold concerns or structural issues, Osborne Homes understands and is prepared to make an offer, saving homeowners from costly repairs.
Properties with Prolonged Market Listings
Sometimes homes stay on the market longer than expected in Palmdale. Whether due to location, pricing, or other factors, Osborne sees the potential and is ready to purchase, ensuring you don't wait a day longer.
Homes in High Traffic Areas
Properties situated in busy parts of Palmdale may face challenges in the traditional market due to noise or congestion. But Osborne Homes is undeterred by these factors, valuing the vibrancy and convenience such locations offer.
Houses Needing Major Repairs
From foundational issues to significant wear and tear, homes requiring extensive repairs can be hard to sell. Osborne simplifies this process by buying the property as-is, sparing homeowners the renovation hassle.
Homes Affected by Desert Climate
Palmdale's arid conditions can sometimes wear down properties faster, from sun-faded paint to drought-impacted landscaping. If your home shows signs of desert-related wear, Osborne is still keen on buying it, looking beyond superficial climate effects.
Ready for a Hassle-free Experience?
Bypass the traditional challenges of selling in Palmdale. Let Osborne Homes offer you a straightforward and rewarding selling journey.
Avoid Costly Repairs in Palmdale
Homeownership in Palmdale comes with its unique set of challenges, and repairs can be crazy expensive. Let's look at some typical repair costs homeowners face in Palmdale:
The desert sun can be unrelenting on roofing materials. Many Palmdale homeowners find themselves replacing or repairing roofs far sooner than expected, incurring significant costs.
Desert Landscaping Restoration

$3,000
Maintaining a yard in Palmdale's arid conditions can be a challenge. Bringing life back to a sun-beaten garden or replacing drought-affected plants isn't cheap.
Older homes in Oceanside might need extensive plumbing overhauls, especially if the original fixtures and pipes have deteriorated over the years.
Whether from rare heavy rains or internal plumbing issues, addressing water damage can be an expensive ordeal, from mold remediation to structural repairs.
Why bear these costs when planning to sell?
Trust Osborne, and keep your money where it belongs: with you.
Take Advantage of Immediate Financial Relief
Selling your home shouldn't be a drawn-out process. With Osborne Homes, you gain the significant advantage of a fast, all-cash offer. No waiting on bank approvals or traditional sale delays. Financial freedom is just around the corner.
Your Priority is
Our Focus
At Osborne Homes, every homeowner is treated as our top priority. Our transparent process ensures you're always in the loop, with your needs and concerns addressed promptly.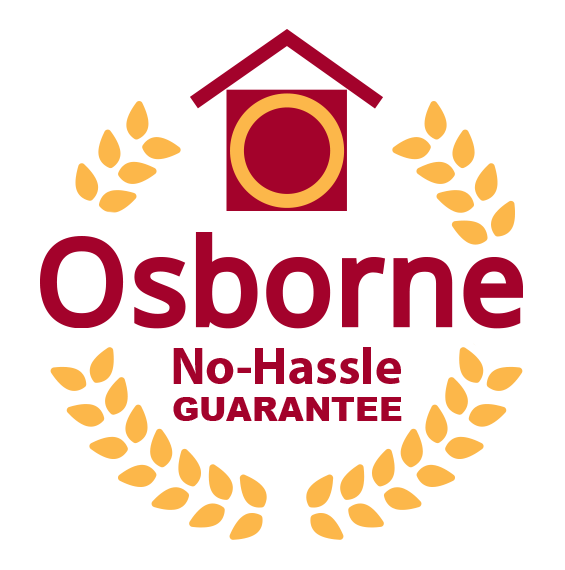 Sell My House Hassle Free!
The Easiest Home-Selling Experience

Ever
Forget the hassles of traditional home selling. With Osborne Homes, you'll experience a straightforward and hassle-free process from start to finish. Simple, efficient, and stress-free.
Osborne Homes isn't just another home buyer. We take pride in being California's top cash home buyer with countless satisfied sellers. Don't just take our word for it – our reviews speak for themselves!
Frequently Asked Questions
Navigating the home selling process can bring up many questions. We've gathered some common inquiries homeowners in Palmdale have when considering selling to Osborne Homes.
How quickly can Osborne Homes buy my house?

We can often close in as little as 3 weeks, depending on the condition and specifics of your property.

Do I need to make any repairs before selling?

No, we buy homes in their current condition. You don't need to spend a dime on repairs or renovations.

Are there any fees or commissions?

Osborne Homes doesn't charge any fees or commissions. The offer you get is the amount you receive.

How do you determine the offer price for my home?

Our team assesses the current condition of your property, its location in Palmdale, and recent comparable sales to determine a fair cash offer.
What types of properties do you buy?

We buy all types of properties, whether they're single-family homes, duplexes, condos, or even properties in probate.

Do I need to move out immediately?

We offer flexible closing dates to accommodate your needs. We can discuss and find a timeline that works best for you.

Why should I choose Osborne Homes over a traditional realtor?

With Osborne, you avoid the lengthy listing process, open houses, and uncertainty. Plus, you don't have to worry about buyer financing falling through.

How does the home assessment work?

Our team will schedule a visit at a time convenient for you to inspect the property and answer any questions you might have.
Seal the Deal with Confidence
Ready for a quick home sale? Choose Osborne Homes and experience the easy, stress-free transition you deserve. Reach out today and turn your property into cash.