We Buy Houses in Anaheim, California
Thinking about swapping your Anaheim property for a hefty chunk of cash? That's where Osborne Homes comes in. We're all set to turn that thought into reality. Our seamless selling process is tailored to suit your expectations – a quick sale and the liberty to leave, ready to embark on fresh adventures. With our assistance, you could be wrapping up the deal in just a couple of weeks!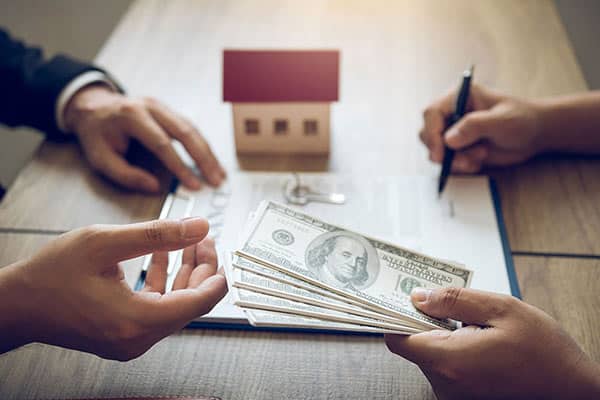 Selling Your Anaheim Home is Now a Piece of Cake
Reach Out to Us
Let's get the ball rolling with a simple first step - a casual chat. We'd love to ask a few questions to get a better grasp of your specific needs. You can start the process by giving us a call, or if you prefer, just hit the button below. No pressure, no stress - just a straightforward conversation.
Virtual Appointment
Unlike other "We Buy Houses" companies, we don't nickel and dime you for damages on your home, or charge you any visitation fees. We keep this step straightforward and to the point.
Close the Deal!
We completely understand that your time is invaluable. That's why we make it a point to align our work with your timetable, typically wrapping everything up in just a few weeks. Faster closings translate to you getting to enjoy your cash without any needless waiting around.
We Buy All Kinds of Homes in Anaheim!
We are Osborne Homes, a leading cash home buyer in Anaheim. We are prepared to buy your home no matter the condition it's in nor your personal circumstances, even if it's occupied by tenants. Here's a quick look at the variety of homes we frequently deal with in Anaheim:
Just to name a few of the homes we frequently purchase

in Anaheim:
Fixer-Uppers
Have an Anaheim home that's a bit worn out? Not a problem. We're well-versed in dealing with homes that need work and are crying out for a makeover.
Downsizing or Retiring
If you're at the brink of retirement or simply looking to scale down, and require a reliable, swift timeline, we are your best bet. Say goodbye to the unpredictability of the market and drawn-out procedures – we ensure a speedy closing.
On the Verge of Foreclosure
If foreclosure is breathing down your neck, we're here to assist. We purchase homes for cash and provide leaseback options, presenting a stress-relief solution.
Facing Bankruptcy
If bankruptcy is prompting you to sell your Anaheim home, Osborne Homes is prepared to step in. We'll purchase your home, handing you the cash necessary to evade bankruptcy, and might even be able to arrange a rent-back plan for you.
From Cozy Homes to Duplexes & Condos
Be it big, small, brand-new, old, immaculate, or slightly battered – we're eager to purchase it and strike a cash deal.
Tenant-Occupied Homes
Unlike most cash home buyers who shy away from properties with tenants, we at Osborne Homes welcome them. We can even manage the eviction process if necessary. Fed up with being a landlord? We're ready to relieve you of that burden!
Going Through Divorce or Separation
A divorce can toss homeownership into turmoil. If you're navigating a separation and need to quickly sell your Anaheim home, we're here to simplify the process. Our cash offers guarantee a swift and hassle-free transaction.
Inherited Properties
Inheriting a property can bring with it a slew of emotions and tasks. If you've inherited a home that requires significant repairs or triggers emotional distress, we can lighten your burden by purchasing it.
Homes with Mold
Mold can cause massive damage and drain your wallet. Sometimes, selling a home with serious mold issues is a wiser choice than dealing with the stress and expense of remediation. We're open to buying homes with mold problems, no questions asked.
Fire-Damaged Homes
If your Anaheim home has been ravaged by fire, we're here to help. We completely understand the intricacies of dealing with insurance and restoration, and we're ready to purchase your fire-damaged home as it is.
Structural Problems
If your home has foundational issues, don't fret. We've seen everything, including substantial structural challenges. Rest assured, we'll buy your Anaheim home, regardless of how 'unstable' its foundation may seem.
Truth is, we've bought virtually every type of home that Anaheim has to offer!
Bypass Hefty Repair Costs When Selling Your Anaheim Home
Living in Anaheim, or anywhere else in California for that matter, can be a financial balancing act and gearing your home up for a traditional real estate sale can significantly impact your budget. Need evidence of that? Let's evaluate the average expenses of usual repairs often required for a standard sale:
Why shell out your hard-earned money on these repair costs? Opt for a swift, all-cash sale of your Anaheim home with Osborne Homes instead.
HVAC Repairs: $150-$1,250
HVAC complications are a common sighting during home inspections in Anaheim, and resolving them can run a hefty tab, depending on the issue's severity. You might find yourself paying anywhere between $150 and $1,250.
Water Heater Repairs: $150-$1,300 
Water heaters in seasoned Anaheim homes can break down out of the blue. Potential buyers might reconsider if the water heater is nearing its expiry, considering a substitute could cost up to $1,500, depending on the model and usage.
Electrical Repairs: $60-$5,000 
If your home is vintage or renovated and facing electrical hitches, brace yourself for a substantial expenditure. Houses of this sort often need comprehensive rewiring to comply with present safety standards. The bill from an electrician could range from $60 per hour for minor adjustments to $5,000 for intricate tasks.
Roof Repairs: $75-$8,500 
Every home, regardless of its age, will eventually need roof repairs. Older homes might require a total roof replacement due to issues such as water damage or structural weaknesses. In 2023, the average cost of a new roof ascended to $8,500, with quotes for larger roofs even exceeding that.
No-Nonsense Cash Transactions, No Hassles
We've mentioned that we buy homes for cash in Anaheim, California; and we mean genuine, tangible cash. With Osborne Homes, you'll receive a check for your property at the closing, all set to be spent, tucked away, or deposited instantly. No postponements, no waiting games.
At Osborne Homes,

You're Our Main Focus
What sets us apart from the crowd is our commitment to our customers. We truly value your unique situation, beyond just the potential selling price of your house. There have been times in Anaheim when we decided against proceeding because we felt our solution wasn't the best for the seller. We uphold a high level of transparency in every transaction. If you'd like to know more about our process and our pledge to you, feel free to connect and have a conversation with one of our experts!
Making Your Anaheim Home Sale a

Breeze
Going through a home sale in Anaheim can feel like navigating a tricky obstacle course. The conventional route requires stringent adherence to numerous rules and presents its own set of challenges – from finding a reliable realtor and staging your home, to managing contingencies and waiting out long closing periods that can last more than 30 days. 
Our streamlined process is a refreshing change for those looking to sell their homes promptly and for all cash.
Delighted Customers, Successful Deals
Of the five homes I've bought and sold, this is by far the easiest and absolutely fair deal... I would recommend them to anybody looking to sell their house, if they asked for 10 stars I would give them 20... I had other bids on the market and they were considerably higher than anybody else. They took the time to listen about the property and considered all aspects and views given to them... Best wishes to all the Osborne group, just phenomenal job people!!!!
The tenants that I had in my house were just out of control. This just became super stressful and I was done with them and the house. A friend told me about Osborne homes, after a few phone calls and an appointment, I was able to sell my home with tenants included.
I got this house in an auction but I wanted to sell it so I sold it to Osborne. I have sold with Open Door before and it was bad. I loved the experience, hands on support and they tailored to my every need. If I need more homes to be sold I am choosing Osborne!
Eager to Sell Your Anaheim Home Quickly? Let's Get Rolling!
At Osborne Homes, we're known for our exceptional service, swift operations, and unwavering commitment to making the sale as simple as possible for you. If you're all set to convert your Anaheim property into instant cash, we can't wait to assist you! Begin your journey today with the most trusted cash home buyers in Anaheim. All it takes is completing the provided form, giving us a quick call, or sending us an email. We guarantee you, we'll get back to you promptly!