We Buy Houses in Elk Grove!
Looking to sell your Elk Grove home without the hassle? Osborne Homes makes it seamless, offering fast, all-cash purchases. Bypass the challenges of the Elk Grove market and sell on your terms.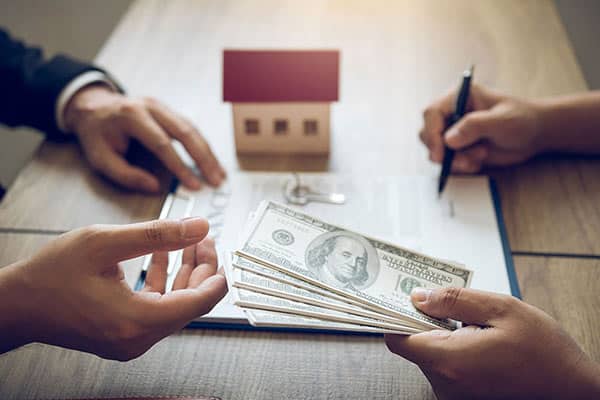 The Simplicity of the Osborne Homes Approach
We make selling your Sacramento home a breeze thanks to our quick 3 step approach.
Reach Out
The first step is to simply reach out to us. During this stage, we'll ask you a few questions to get to know you and your unique situation better. To get started with step #1 simply fill out the form at the top, or hit the button below.
Virtual Appointment
Unlike other "We Buy Houses" companies, we don't nickel and dime you for damages on your home, or charge you any visitation fees. We keep this step straightforward and to the point.
Close!
At Osborne Homes, we don't beat around the bush when it comes to timing. We close on your timeline and we can often close in as little as 7 days. We close fast, so you can quickly enjoy your cash.
We Buy All Kinds of Homes

in Elk Grove
Aging Homes in Elk Grove
Older homes may lack modern amenities or require updates. Even if your Elk Grove home has seen better days, Osborne buys it as-is, saving you from expensive remodeling costs.
Homes Near Freeways
The noise and bustle of living near a freeway can deter buyers. But for Osborne Homes, location isn't an issue. We see the potential in every property.
Foreclosed Homes
If you're facing foreclosure in Elk Grove, selling might seem daunting. We specialize in quick purchases, offering relief to homeowners in tight situations.
Tenant-Occupied Residences
Managing tenant issues can be a hassle. Whether it's lease disputes or rent delays, Osborne Homes offers a way out by purchasing your tenant-occupied property.
Inherited Properties
Inheriting a property in Elk Grove can come with emotional and financial burdens. If you're looking to sell, we simplify the process, respecting your situation.
Homes with Structural Issues
Houses with foundational or other structural problems can scare off traditional buyers. Osborne Homes, however, is committed to buying homes regardless of their condition.
Thinking about selling? Osborne Homes has got your back. Hit the button and let's chat.
Skip the Repair Bills in Elk Grove
You know how Elk Grove homes have their quirks. And fixing them? Well, that can be a real drain on your wallet. But here's the kicker – when you sell to Osborne, you can forget about all those expensive repairs. We buy your home as-is, saving you time and cash.
Most Common Repairs in Elk Grove, California
Why burn cash on these fixes? Reach out to Osborne instead.
Foundation Issues – $5,000+ 
Foundation repairs in Elk Grove can be a major headache, not to mention a serious hit to your pocket. But with us, you don't have to worry about it.
Roof Replacements – $7,000+ 
Elk Grove weather can be tough on roofs. Over time, wear and tear lead to expensive replacements. Save that money; we'll handle it.
Plumbing Fixes – $1,000+ 
Elk Grove homes, especially older ones, often need plumbing overhauls. But why dive into that expense? Let Osborne buy your home, leaks and all.
Electrical Upgrades – $3,000+ 
Upgrading the electrical system can be a shock – both literally and to your bank account. But with Osborne, there's no need for any electrical facelifts.
Experience the Osborne Advantage
When you choose Osborne Homes, you're not just selling a house—you're embracing simplicity. Say goodbye to tedious listings, negotiations, and waiting games. Walk into the new chapter of your life with both ease and confidence.
At Osborne Homes, your peace of mind is our priority. We listen, understand, and tailor our services to meet your unique needs, ensuring a smooth and personalized experience.
Selling with Osborne Homes is refreshingly simple. Forget the hassles of traditional selling; we offer straightforward solutions to get you moving faster.
Proven Excellence in California
We're proud to be California's top cash home buyer. Our reputation is built on trust, and our glowing reviews testify to our commitment to homeowners like you.
Of the five homes I've bought and sold, this is by far the easiest and absolutely fair deal... I would recommend them to anybody looking to sell their house, if they asked for 10 stars I would give them 20... I had other bids on the market and they were considerably higher than anybody else. They took the time to listen about the property and considered all aspects and views given to them... Best wishes to all the Osborne group, just phenomenal job people!!!!
The tenants that I had in my house were just out of control. This just became super stressful and I was done with them and the house. A friend told me about Osborne homes, after a few phone calls and an appointment, I was able to sell my home with tenants included.
I got this house in an auction but I wanted to sell it so I sold it to Osborne. I have sold with Open Door before and it was bad. I loved the experience, hands on support and they tailored to my every need. If I need more homes to be sold I am choosing Osborne!
Frequently Asked Questions
At Osborne Homes, we get many questions about the process of selling a Los Angeles house to us – so we decided to gather a list of the most frequent ones and answer them in one go for you here.
How quickly can Osborne Homes buy my Elk Grove property?

We can close deals in as little as a few weeks, depending on your preferences and the home's condition.

Do I need to make repairs before selling?

No, we buy homes in "as-is" condition. Save yourself the time and expense; we handle it!

Are there any hidden fees or costs?

Absolutely not. Our process is transparent, with no surprise charges.

How do you determine the offer price for my home?

We assess the property's condition, location, and the current Elk Grove market to provide a fair offer.

Is it really all-cash?

Yes! We provide an all-cash offer, ensuring a fast and smooth transaction.

Why should I choose Osborne over a traditional realtor?

With Osborne, you bypass lengthy processes, avoid commission fees, and receive a quick cash offer.

I'm behind on my mortgage; can I still sell?

Definitely. We've worked with numerous homeowners in similar situations. We can help find the best solution for you.

How long has Osborne Homes been buying homes in Elk Grove?

We've been in the business for years, with a track record of numerous satisfied homeowners in Elk Grove and beyond.
Elk Grove homeowners, it's time to skip the hassles and get the value you deserve. Choose Osborne Homes, where selling is as easy as a breeze. Fill out this form and begin the journey.