We Buy Houses in
Fontana California
Tired of the Fontana home-selling hurdles? Osborne Homes offers a swift, cash-based solution, ensuring your home sells without the typical Fontana challenges. Embrace simplicity; embrace Osborne.
Making Home Selling Effortless in Fontana
Navigating Fontana's unique housing market can be intricate but with Osborne's three-step approach, it's never been easier:
Reach Out
Ditch the stress and uncertainty. Once you contact us, our team starts the process immediately, ensuring a seamless experience tailored to Fontana's market.
Virtual Appointment
Unlike other "We Buy Houses" companies, we don't nickel and dime you for damages on your home, or charge you any visitation fees. We keep this step straightforward and to the point.
Close!
Say goodbye to prolonged waits. With Osborne Homes, you'll close promptly, receiving all-cash offers that sidestep Fontana's typical home-selling complexities.
We Handle Every Situation

in Fontana
Even if it's a ranch-style home that needs a lot of work, Osborne Homes recognizes the value in every Fontana property. From large lots to homes close to industrial zones, we ensure every homeowner receives a fair, fast cash offer.
Older Ranch-Style Homes
Common in Fontana, these homes often require extensive updates to meet modern buyers' expectations. Whether it's a 1960s rancher with a vintage charm or a home that's seen better days, Osborne is ready to purchase without demanding renovations.
Homes with Large Lots
While expansive yards can be a Fontana homeowner's dream, they can also be daunting to potential buyers due to maintenance concerns. Osborne Homes appreciates the potential and beauty of these properties, buying them as they are.
Foreclosed Homes
Facing the aftermath of a foreclosure can be challenging. These homes in Fontana, often requiring significant repairs, are welcomed by Osborne. We see the value beyond the present state.
Homes in Newer Communities
In bustling new communities, standing out in the market can be tricky. Whether it's a home in a newly developed area or one that needs a slightly modern touch, Osborne is your buyer.
Homes Near Industrial Zones
Homes close to Fontana's industrial hubs might face longer sell times in the traditional market due to location perceptions. Osborne Homes understands the intrinsic value of these homes, ensuring homeowners receive fair offers.
Homes Requiring Quick Sales
Whether it's a job relocation, financial need, or personal reasons pushing for a speedy sale in Fontana, Osborne offers a quick, hassle-free solution.
With Osborne Homes, experience a selling process that respects your home's unique value, ensuring a seamless, rewarding sale.
Skip the Repair Bills, Choose Convenience
Selling in Fontana often means facing hefty repair bills. With Osborne Homes, there's no need for updates, no matter the home type or condition:
Outdated Electrical Systems

$4,000+
Many of Fontana's charming older ranch homes come with electrical systems that don't meet today's standards. This can include outdated fuse boxes, lack of ground wires, or even aluminum wiring which can pose safety concerns.
Landscaping Overhaul

$10,000+ 
Sprawling lots can become overgrown jungles without regular maintenance. Over the years, untamed shrubbery, dead trees, and patchy lawns can accumulate, requiring significant landscaping to attract buyers.
Damaged Floors and Walls

$6,500+ 
Foreclosed homes often suffer from neglect. Damaged hardwood, stained carpets, and holes in walls can be common, requiring a complete overhaul to be market-ready.
Mismatched Renovations

$7,000+ 
In newer communities, homeowners often attempt DIY renovations to stay contemporary. However, mismatched tiles, inconsistent room themes, or low-quality finishes might need rectifying for a consistent home aesthetic.
Don't pour your money into these fixes; let Osborne Homes provide an all-inclusive solution.
Save Your Wallet and Your Time. Contact Osborne.
Avoid pouring thousands into repairs; Fontana homeowners can skip the renovation drama with Osborne Homes. We appreciate your home's potential beyond its flaws.
Customer-Centric Approach -

Always!
Every Fontana homeowner deserves a seamless selling experience. At Osborne Homes, your needs, preferences, and concerns are our top priority. We don't just buy homes; we build lasting relationships.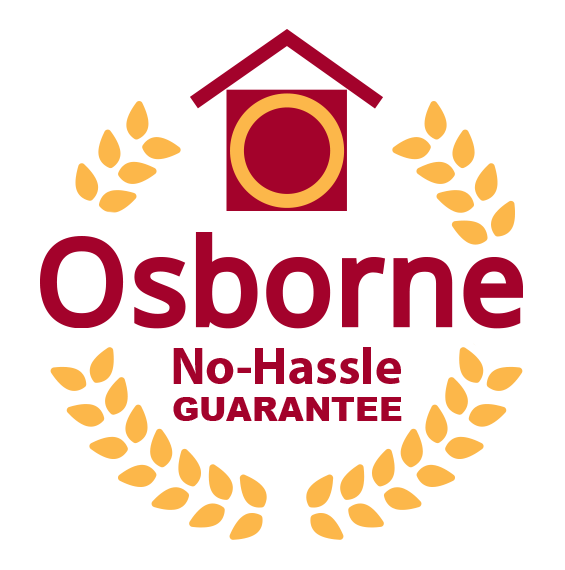 Sell My House Hassle Free!
Choosing Osborne Homes isn't just about speed and cash offers. It's about partnering with a team that truly understands Fontana, prioritizing your needs, and offering unparalleled convenience every step of the way.
Verified Excellence -

Our Reviews Speak Volumes
We take pride in being California's #1 cash home buyer. Our satisfied clients from Fontana and beyond are a testament to our commitment to excellence and transparency.
Frequently Asked Questions in Fontana
Fontana homeowners often have queries, and we're here to answer them.
Dive into our FAQ section to find out how Osborne Homes makes selling in Fontana a breeze:
How quickly can I sell my Fontana home with Osborne Homes?

Typically, within a matter of weeks! Our process is streamlined to ensure Fontana homeowners can close swiftly.

Will I need to do repairs on my ranch-style home before selling?

No! We buy homes in any condition. Save those repair costs and sell as-is.

Are there any hidden fees when selling to Osborne Homes?

Absolutely not! Our offers are transparent with no hidden charges.

What if my home is near an industrial zone in Fontana?

Not an issue! We buy homes in all areas of Fontana, regardless of their proximity to industrial zones.
How does Osborne Homes determine the value of my property?

Our seasoned team evaluates properties based on the current market, location, size, and the home's condition, ensuring you get a fair offer. 

Do I need to wait for bank approvals when selling to Osborne Homes?

No waiting around here! We offer an all-cash purchase, eliminating the need for bank approvals and lengthy processes. 

Can I sell my foreclosed home to Osborne Homes?

Absolutely! We specialize in assisting homeowners with a variety of situations, including foreclosures. 

How different is selling to Osborne Homes than listing with a realtor?

Selling to us means no commission fees, no repair costs, and notably faster closings compared to the traditional realtor-listing route. Experience a hassle-free sale with Osborne Homes.
Osborne Homes' Closing Touch
Why deal with Fontana's unique housing challenges? Let Osborne Homes transform your selling journey from complex to uncomplicated. Contact us and experience the Osborne advantage, today.