We Buy Houses in
Rancho Cucamonga!
Discover a hassle-free home selling experience in Rancho Cucamonga with Osborne Homes. No more waiting, no repair costs, just a straightforward cash offer. Sell with confidence; sell with speed.
Our Simple 3-Step Process
Navigating the Rancho Cucamonga real estate market can be complex, but not with Osborne Homes. Our streamlined approach ensures a swift, seamless sale. Just:
Contact Us
Begin your hassle-free journey with a simple call or online form. We're here to listen and guide you every step of the way.
Virtual Appointment
Unlike other "We Buy Houses" companies, we don't nickel and dime you for damages on your home, or charge you any visitation fees. We keep this step straightforward and to the point.
Close Fast!
Time is precious. With Osborne Homes, you'll skip the months-long wait and secure your all-cash deal in record time.
We Will Buy Your Rancho Cucamonga Home

in Any Condition
No matter the style, age, or condition of your Rancho Cucamonga property, Osborne Homes is ready to buy. From homes with foundation cracks to needing a new roof, we see the potential in them all. If you think your home is too worn or outdated, think again – with Osborne, there's always an all-cash offer waiting for you.
Historic Property Limitations
Rancho Cucamonga boasts an array of vintage homes. While these properties ooze charm, selling them can be tricky due to preservation guidelines and potential renovation restrictions. Osborne understands these intricacies and is prepared to purchase without hassle.
Complex Ownership Scenarios
Inherited homes or properties with multiple owners can complicate the sales process. Osborne streamlines the experience, offering solutions tailored for multifaceted ownership situations.
Fluctuating Market Dynamics
With Rancho Cucamonga's housing market being volatile at times, securing a favorable deal can be uncertain. Osborne offers a consistent, fair cash value for homes irrespective of the current market state.
High Crime Zones
Certain areas in Rancho Cucamonga may have higher crime rates, making listings less appealing to average buyers. We're not deterred by location and are ready to buy homes in any part of the city.
Maintenance-Heavy Properties
Properties near Rancho Cucamonga's natural habitats might need extra upkeep due to potential brush fire risks or wildlife encounters. If maintenance feels overwhelming, remember Osborne Homes buys houses as they are.
Economic Strains & Quick Moves
For homeowners affected by Rancho Cucamonga's economic challenges, waiting for the traditional sales process can be burdensome. Whether it's a job relocation or financial necessity, Osborne ensures a swift home-selling process.
Don't let these city-specific challenges slow you down. 
Choose the stress-free route with Osborne Homes.
Avoid Costly Rancho Cucamonga Home Repairs with Osborne
Rancho Cucamonga homes, with their unique charm, can sometimes come with unexpected repair expenses. Instead of pouring money into fixes, consider selling your house "as is" to Osborne. 
Roof Replacement

$7,000 - $10,000
Given Rancho Cucamonga's varying weather conditions, roofs can degrade faster. Whether it's sun damage or occasional rainfall, ensuring a leak-free roof can be pricey.
Foundation Repair

$4,000 - $8,000
Due to the city's seismic activity, foundation damages can be a real concern. Ensuring the structural integrity of a home can significantly impact your pockets.
HVAC System Overhaul

$5,000 - $7,000
Rancho Cucamonga's hot summers mean a fully functional HVAC system is essential. Over time, these systems wear out and need costly replacements.
Plumbing Repairs

$2,000 - $5,000
Older homes in the city might be fitted with outdated plumbing systems. Updating to modern systems or fixing persistent issues can be an expensive affair.
Don't pour your savings into these repairs. Instead, trust in Osborne's seamless selling process.
Simple Sale, Immediate Cash
One of the standout benefits of choosing Osborne Homes is our commitment to a stress-free selling experience. Instead of waiting for months on traditional markets, with us, you can secure an all-cash offer today, bypassing repairs, listings, or agent fees. 
It's a simplified and certain way to sell fast.
Your Priorities,

Our Mission
At Osborne Homes, we understand every homeowner's unique needs. That's why we ensure a personalized, transparent approach in all our dealings. We prioritize your goals, timelines, and concerns to ensure a selling process that genuinely works for you.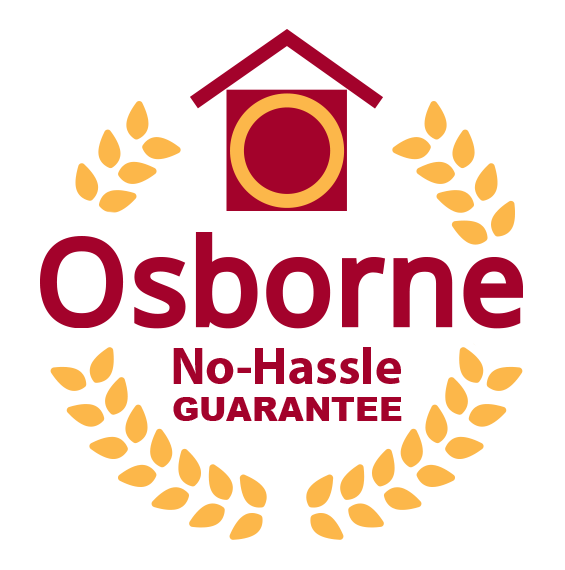 Sell My House Hassle Free!
Navigating the real estate market can be intricate and taxing. With Osborne Homes, it doesn't have to be. Our streamlined process ensures that selling your property is straightforward, efficient, and free from the usual complications and delays.
Leading the Way in

California
Osborne Homes is proud to be California's top cash home buyer. Our unwavering commitment to homeowners and a seamless selling process sets us apart. Don't just take our word for it—our multitude of positive reviews from satisfied clients speaks volumes about our credibility and expertise.
Got Questions? We've Got Answers!
Dive into our FAQs tailored for Rancho Cucamonga homeowners.
How fast can Osborne Homes buy my property? 

We typically close deals within a few weeks, ensuring you get cash quickly.

Do I need to make repairs before selling? 

No! We buy homes in any condition. No repairs or improvements are needed.

Are there any hidden fees or charges? 

Absolutely not. Our process is transparent with no hidden costs.

How do you determine the offer price for my home? 

Our team conducts a fair assessment based on local market trends and your home's condition.

 
Is it mandatory to sell once I get an offer? 

No, our offers come with no obligations. It's your decision to proceed.

How does Osborne Homes differ from real estate agents? 

Unlike agents, we directly buy your home, skipping listings, showings, and long wait times.

I'm dealing with a foreclosure. Can you still buy my house? 

Yes, we specialize in helping homeowners navigate challenging situations like foreclosures.

Why should I choose Osborne Homes over other buyers? 

Our track record in California, transparent dealings, and commitment to putting homeowners first sets us apart.

 
Claim The Best Home Selling Experience Today, with Osborne
With Osborne Homes, selling becomes stress-free. Join countless Californians who've found success with us. Transform your property worries into cash today.