If you are one of the many homeowners searching Google with the term "sell my house fast Sacramento" you're probably aware of the challenges involved in the traditional home-selling process and are looking for alternative solutions. Fortunately, there IS an alternative and it can make your home sale quick and stress-free – just sell your home to us here at Osborne Homes. We specialize in buying homes for cash, allowing homeowners to close faster and with fewer hassles. In this blog, we'll explain the grueling traditional home sale process versus the benefits of selling your home for cash and how Osborne Homes can help you achieve a smooth closing. 
Let's first explore the problems with the traditional home selling process.
The Problems with the Traditional Home Selling Process
Selling a home the traditional way takes an enormous amount of time and money in planning, preparing and acting on all of the things you need to do to get it all to happen. That's fine if you have the time and money, but the homeowners who come to Osborne Homes are usually in a huge hurry to sell; they like us because we can accommodate them by closing fast. Here is what they face, otherwise, by going with the traditional market:
You have to list your Sacramento home with a real estate agent
Selling your home with the assistance of a real estate agent is the most common approach for homeowners. However, this method has its own set of challenges and drawbacks that can impact the overall process and your profit. Real estate agent's schedules are jam packed, you have to work with their availability, and you have to pay them a large commission. There is no commission to pay when you sell your home to Osborne.
You'll have to make repairs
Before putting your home on the market, it's essential to address any significant issues that could deter potential buyers or lead to unfavorable home inspection results. Especially when you know you have a home that needs repair.  You might need to fix structural problems, address water damage or mold, upgrade outdated electrical systems or plumbing, or repair or replace damaged roofing or siding. This gets expensive – and fast. At Osborne, we buy homes in as-is condition. You'll save potentially huge amounts of time and money here by selling your home to us. As you know, Sacramento living isn't cheap, and home repairs are at an all time high in Sacramento.
Too much time spent on the market
One of the primary concerns when selling a home in Sacramento is the time it spends on the market. A longer time on the market can lead to increased carrying costs, such as mortgage payments, property taxes, utilities, and maintenance, which can quickly add up. Additionally, a prolonged sale process can be emotionally and mentally taxing for homeowners.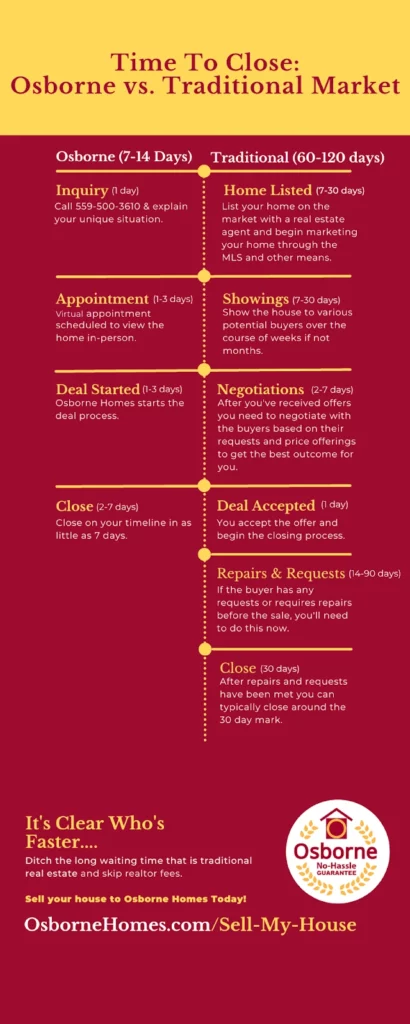 Osborne Homes vs. Traditional Market Infographic
The unpredictability of the closing process
There are several factors that can cause delays in the closing process during a traditional home sale. Some of the most common reasons include financing issues, home inspection findings, title issues, contingencies, appraisal delays, buyer or seller delays, legal and paperwork issues and scheduling conflicts.
Don't let your home sale be delayed – Sell to Osborne today!
While the above steps can help attract potential buyers and possibly result in higher offers, they can also be costly and time-consuming.  For homeowners who want to avoid these expenses and the hassle of preparing their home for sale, selling today and being in escrow tomorrow sounds a lot better! And that's what you get when you sell your house in Sacramento to a cash buyer like us here at Osborne Homes. 
How Osborne Homes Can Help You Achieve a Quick and Stress-Free Closing with an all-cash deal
If you're wondering "how do I sell my house in Sacramento FAST," you're not alone. The good news is that we are cash buyers here at Osborne Homes and we have the funds readily available to purchase your property today. This allows us to bypass many of the time-consuming steps involved in traditional financing. Here are more ways we can help you speed up the process of selling your Sacramento home:
Avoid financing contingencies
Financing contingencies are clauses in the purchase agreement that allow the buyer to back out of the sale if they are unable to secure a mortgage. This can leave sellers in a precarious position, as their home sale might fall through at the last minute due to financing issues. However, cash offers eliminate the need for financing contingencies, reducing the risk of a sale falling through and providing the seller with greater certainty that the transaction will be completed.
No repairs needed, simply sell your house in Sacramento as-is
One of the significant advantages of selling your home for cash is the ability to sell your property in its current condition, without the need for costly repairs or renovations. Cash buyers like Osborne Homes are willing to purchase homes with various issues, including homes that need significant repairs or are considered "fixer-uppers." This can be especially beneficial for homeowners who lack the time, resources, or desire to invest in improvements before selling their property.
Save time and money
By selling your Sacramento home as-is to Osborne Homes, you can save both time and money that would otherwise be spent preparing your home for sale in the traditional market. This includes the cost of repairs, renovations, staging, and photography, as well as the time spent coordinating and overseeing these tasks. Additionally, you can avoid the stress and uncertainty associated with waiting for your home to sell on the open market, allowing you to move forward with your plans more quickly and confidently.
Streamlined transaction
Cash transactions typically involve less paperwork and fewer contingencies than traditional home sales, which simplifies the entire process for both the buyer and the seller. Without the need for mortgage approvals, appraisals, or financing contingencies, the purchase agreement can be more straightforward, and the closing process can be expedited. This streamlined approach results in a more efficient and stress-free transaction for all parties involved.
No need for multiple showings
Selling a home in Sacramento for cash eliminates the need for numerous showings and open houses, which can be time-consuming and disruptive to your daily life. Traditional home sales often require the seller to accommodate a steady stream of potential buyers, real estate agents, and inspectors, which can be inconvenient and intrusive. With a cash buyer like Osborne Homes, you can avoid this hassle and maintain greater control over your schedule and privacy during the home-selling process.
The Fast and Easy Osborne Homes All-Cash Buying Process
Property Evaluation: Our team of experts evaluates your property's condition and location, as well as current market trends, to determine a fair cash offer for your home.
Free, no-obligation cash offer: We provide a free, no-obligation cash offer for your home, allowing you to weigh your options without any pressure.
No need to make any repairs – we buy homes in as-is condition: With Osborne Homes, you can sell your house in Sacramento without making any repairs, saving you time and money.
Flexible closing timeline: We work with you to establish a closing timeline that suits your needs, with the ability to close in as little as 7 days.
We are Experienced, Local Experts
We have Knowledge of the Sacramento real estate market: Our team of professionals has extensive knowledge of the Sacramento real estate market, ensuring that you receive a fair and accurate cash offer.
We offer a professional and transparent service: At Osborne Homes, we pride ourselves on providing honest, transparent, and professional service to all of our clients, guiding you through every step of the process.
Embrace the Benefits of a Cash Home Sale for a Smooth & Fast Closing
Selling your house in Sacramento for cash offers numerous benefits over the traditional home-selling process. With quick closings, no need for repairs or renovations, and simplified paperwork, cash home sales can save you time, money, and stress. Osborne Homes is committed to helping you achieve a stress-free closing through our professional and transparent cash home-buying service.
Are you ready to experience the benefits of selling your home for cash? Just call us up and say: "Buy my house in Sacramento!" You'll receive a free, no-obligation cash offer and start your journey toward a quick and stress-free home sale.