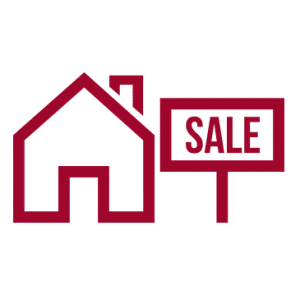 Looking for a quick home sale? Whether you're selling your house to ease the financial burden of caring for it, get out from under mortgage payments, or moving for a new job, putting the wheels in motion to help you move on to your next destination can be an adventure. Unfortunately, it can also be expensive—adding even more stress to what may already feel like a complicated undertaking.
Selling the house yourself, however, can lower your costs and reduce some of the pressure. That's not to say that it won't be a lot of hard work or without its own unique challenges, but if you know how to do a 'for sale by owner,' the process can pay off in more ways than you might expect.
How to Do a 'For Sale By Owner' for a Quick Home Sale
Though it seems counterintuitive, the costs associated with selling a home can be considerable, especially if you want a quick home sale. California's real estate commissions rates are some of the highest in the nation, in fact. If you use a real estate agent, you're going to pay for it, sometimes as much as 5% to 6% of the selling price of your home. Acting as your own real estate agent could save you some cash. But if you don't know how to successfully conduct a 'for sale by owner' transaction, you might end up paying a lot for that too, in both money and time, especially if your house is not selling as fast as you need it to—or doesn't sell at all.
To make sure you have as little trouble as possible selling your house yourself, here's what you can do to make the sale go as smoothly—and as quickly—as possible:
Minimize possessions, maximize potential. With or without an agent, you need to clear away clutter, clean up the house, and make some repairs. Potential buyers want to see what your home has to offer so that they can decide whether or not it's worth it to make an offer. If your home is filled with family heirlooms, smells like smoke and pets, or looks outdated, you could have a hard time getting visitors to go much further than the front door. A little maintenance and a few repairs, however, can go a long way towards encouraging interest and offers. If you have major issues of any kind, like leaks in the roof or mold in the walls, consider having these corrected too. Sure, you might have to spend several thousand dollars on repairs, but you would be paying that to an agent anyway.
Research, appraise, and price. You'll have to do some legwork to figure out what your home should be listed for and, luckily, you won't have to go far to do it. A little research online will tell you what other houses in the area have sold for and give you an idea of what your house might sell for too. When doing your research, just be sure to compare apples-to-apples. You don't want to list your home at the same price as the McMansion down the street. You won't get any offers. For a more accurate assessment of your home's current worth, hire an appraiser as well. Together, these tasks should help you decide what the asking price of your home should be. But, be careful. It's easy to let your emotions drive you to expect more simply because the home holds meaning for you. Pricing your home is a business decision, so be sure to treat it as such.
List, market, and show. Once the house is ready to sell, it's time to advertise. There are 'for sale by owner' services that will help you get your home listed on Realtor.com and your local Multiple Listing Service, and you should take advantage of them. More often than not, potential buyers will be represented by a real estate agent to help them with their home search. Buyers' agents set up searches on sites like these to find homes that fit their clients' criteria and you don't want your house to be left out. If it's within your budget, you should also market your property wherever you can—on bulletin boards around town, in the real estate section of the newspaper, and even on social media sites—to reach the biggest pool of potential buyers. This can get pricey, but it's what your own agent would do if you had one. And, it's done precisely because it is effective at drawing attention to a property. You'll also want to hold open houses to give people an opportunity to walk through the house and ask questions. This can be some of the most effective marketing you can do, assuming you can handle the negative feedback or the lack of attendance if nobody shows up.
Pay buyers' agents—and pay well. Most buyers' real estate agents expect to be compensated for about half of the commission that a listing agent would have commanded. And not being represented by your own listing agent doesn't let you off the hook. No real estate agent wants to work for free. So, if you want buyers' agents to include your house in the list of properties they show their clients, you need to offer them anywhere from 2.5% to 3% of the purchase price. Offer less than that and you can expect most agents to skip right over your house in favor of those that off a better financial incentive.
Get, and keep, your documentation in order. From day one, you'll find it's critical to get, and keep, all of your documentation in order. Accidentally misrepresenting the property, forgetting to provide a crucial piece of paperwork, or not properly disclosing the condition and history of the house can lead potential buyers to feel intentionally mislead—and cause them to walk away. Additionally, what you say, and how you say it, in real estate transactions does hold heavy legal consequences. So tread carefully, and accurately, when filling out all the required documentation. To keep things simple, you can find all the contracts and agreements you need on the web for a fee. But, in the end, it might just be easier—and safer—to hire a real estate attorney to handle the paperwork for you or, at least, review it before you declare "sold!"
If it seems like a lot of trouble selling your home yourself, even with these steps to guide you, you're not alone in your thinking. Doing a 'for sale by owner' takes quite a bit of research, dedication, elbow grease, and patience.
Unfortunately, it can be even more challenging when you don't have any previous experience doing it. After a while, paying out a high California commission doesn't look so bad—especially if, after everything you do, your home isn't selling quickly.
Look a little closer, however, and you'll see you can sell your home without an agent and without all the trouble of trying to act like one.
An Easier Option for Selling Your House Quickly
A native California business, Osborne Homes buys properties that are in any condition, with cash, and usually in as little as seven days. We don't charge commission fees, don't expect renovations, and don't hassle you with a ton of tricky paperwork. As leading cash home buyers, we simply give you a fair offer and make the process of selling as stress-free as possible for you. Selling your house to us can make moving can feel more like moving on to the next adventure.
Save yourself fees and trouble of doing a 'for sale by owner' by

contacting Osborne Homes online

or calling us at

559-468-6149

to get a hassle-free cash offer on your house.