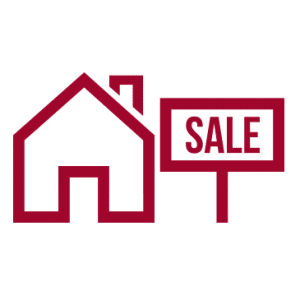 The number of properties for sale by owner in California seems to have increased in recent years. If you have a home you're looking to put on the market, you might be considering the same. Perhaps your property in Victorville's been sitting vacant since you moved to Orange County to be closer to the grandkids. Or you've been renting out your second house in Clovis to tenants for a while, but you're just plain tired of being a landlord.
Selling a home by owner in California lets you avoid making repairs while attracting potential buyers who want a fixer-upper deal. Forgoing the expense of hiring a real estate agent might be one way to save some cash, time, and effort. Whatever your case may be, if you want—or need—to sell your property fast and at the best possible price, you'll need a few "for sale by owner" tips and tricks to make it happen.
Five For Sale By Owner Tips for Selling Fast
Quickly selling a house and trying to save money while doing it is the number one reason people attempt to sell their properties themselves. Unfortunately, many homeowners come to realize that selling their own house is not as easy as it sounds, and the frustration mounts as their property lingers on the market for months. In the end, many folks have to turn to a real estate agent for help anyway.
Luckily, there are some things you can do to tip the odds of selling your 'for sale by owner,' or FSBO, house in your favor. So, if you need to sell your house quickly, here's what you need to do:
Top tips for selling a home by owner in California
1. Set a Good Price
Set a good list price for your home and you'll have a better chance at selling it fast. Hire an appraiser or enlist an online appraisal service to help you determine its current value. It's also important to compare key features of your house—like size, condition, and the number of bedrooms and bathrooms—with other properties that have recently sold in the area. Comps, as they're called, will give you a good idea of what your home could sell for. This information can be found online, in newspapers, and with title companies. If you price your home according to what similar houses are selling for—not what they're listed at—you should be able to attract some buyers of your own.
2. Prep the Property
Take the time to get ready for visitors. Of course, these won't be just any visitors. They'll be couples and families looking for the right space to buy that makes them feel right at home. So remove any clutter, clean the property inside and out, and make all necessary repairs where possible. A bit of fresh paint on the walls in a neutral or warm color goes a long way toward sparking the imagination of interested buyers, too. If it's in your budget, also consider having your home professionally staged. The consultation itself may cost several hundred dollars and, if you decide to move forward, your final price tag could reach as high as a few thousand. But, it could be worth it if the stager helps your home sell. Your goal is to get the house ready for potential buyers and to help them see themselves living in it.
3. Advertise
To drive traffic to your door, you will have to advertise. Direct mail and flyers help, and you can also buy ads in the local newspaper, in magazines, and on websites. If you're internet savvy, it doesn't hurt to spread the word through social media, too. If you're willing to pay an FSBO company between $300 and $500, they can even help you create online listings on sites such as Realtor.com and the Multiple Listing Service (MLS). In short, you'll want to do whatever you can to market your property to as many potential buyers as possible—down to putting a "For Sale" sign in your front yard.
4. Hold an Open House
Hold one or more open houses to give several potential buyers at once the opportunity to tour your home with you at the helm. Have fliers on hand for visitors to review important details about the house, like price and square footage, and encourage questions while you highlight any interesting or updated features. You might also think about having guests sign in with their contact information so that you can follow up and thank them later. It's usually best to have open houses on the weekends, when most people are off work, and early in the day. But be sure to have someone else with you at all times: safety should be your first priority.
5. Offer Compensation
Increase your home's chances of being seen by potential buyers by offering a respectable real estate commission to selling agents wherever you list your property for sale. Most buyers are represented by a selling agent, and all real estate agents want to be compensated for their time—and rightly so. If there's no commission on the table, however, agents may hesitate to show your house to their clients. Offer even a few percentage points and that could change. Of course, everything is negotiable, including the amount and how you'll pay it. But agents will feel better about showing your house, and you'll likely see more interest knocking at the door, if they know they're getting paid.
Of course, taking these steps takes time (and often money), and they'll only get you so far. It can take weeks, sometimes months, to decide on a good price, get a house ready for sale, and put a marketing campaign into place. Even then, there's never a guarantee a property will sell quickly or that you'll have saved any money at all by doing it yourself. And you'll still have to learn to navigate and negotiate contracts—or pay for a real estate attorney who can.
There is another option out there for selling your home quickly and easily, however, and it won't cost you a thing.
A Fast and Hassle-Free Approach to Selling Your Home
Since 2009, the Osborne Homes family has been helping California homeowners unload their properties—and their worries—quickly and easily by paying cash for their homes and closing escrow in as few as seven days. And we take homes "as-is," so there's no need for you to clean, declutter, or make any repairs. We handle it all, and at no cost to you. So, if you live in any of the 16 California counties we serve, and would like to spend more time with your family or traveling the world, and less time trying to sell your house, we can make that happen—fast and hassle-free.
When it comes to selling your home, don't go it alone. Call us at

559-468-6149

and come to Osborne Homes and let us buy your property today.