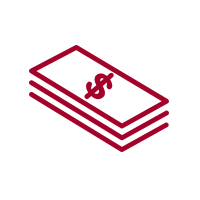 The real estate commission rates in California, which more often than not reach upwards of 6% of a home's sale price, are some of the highest in the nation. So, if you know how to sell your house without paying a commission to a real estate agent you could save yourself tens of thousands of dollars.
Saving even a few thousand on an older, smaller house in Marysville or Fresno is nothing to sneeze at—especially if money is tight because of pending medical bills or other time-sensitive financial obligations. But, without paying for the help of a professional real estate agent can you still attract serious buyers who are able, and willing, to pay you a fair price for your home? You can, and we will show you how.
Can I sell my home with no commission?
There are certainly advantages to using a real estate agent to help you sell your home. But the biggest disadvantage—the cost—can be enough to make anyone think twice. Sure, effectively marketing a property takes some creative savvy, and showing a home to prospective buyers takes time and patience. But, having a professional handle those tasks does not necessarily take the sting out of paying real estate agent fees.
Especially when you see the size of the bite that is taken from your sales price and start thinking about the ways your money could be better spent.
Of course, to avoid paying commission to a real estate agent means you will want to conduct a 'for sale by owner'. Since the most critical component to ensuring you succeed at selling your home, and saving money, is to attract the right buyers. Here are some tips on how you can do just that:
How to Sell Your House Without Paying Commission
Get your house camera-ready. Since you will be marketing your house to potential buyers, then showing it in-person to those who take an interest. It's important to get the house camera-ready. You will need to take the time to declutter, clean, and renovate the house where you can. Overstuffed shelves, mildewed shower curtains, and unhinged cabinetry should immediately become a thing of the past if you want to appeal to a buyer who could be attracted to the idea of making your home theirs. Unfortunately, this step can take a lot of time and a ton of money if you need to hire organizing, cleaning, and rehab professionals to help. But no buyer likes to see a house that is in disarray or disrepair—in photos or in person—when they are trying to imagine themselves in their future home. So, put your home's best foot forward by getting it in tip-top shape.
Set the right price. Make a point to price your house appropriately for its size, style, and condition to engage the interest of home shoppers who are really ready to buy. Luckily, it is not that hard to do these days, either. All you need is a decent computer and a good connection to the web. Just to see the amount that other comparable homes in the area have sold for. However, to get a number that is closer to being right on the money. It is always a good idea to hire a real estate appraiser who can assess your home's current worth. That way, there is less of a risk that you will price your property too low and attract only bargain shoppers who will try to negotiate the price even lower or list it for too much and scare away all serious buyers. You don't want to waste your time. Just trying to appeal to people who have no plan or ability to pay for your house, so do the work to set the right price to get the right buyer.
Pay for strong marketing. To attract the largest possible number of qualified buyers, it is critical that you market your property in as many places as you can afford. To start, there are several 'for sale by owner' paid services that will help you list your home on your local Multiple Listing Service (MLS) for buyers' agents to find. But advertising your house should not stop there. Locally-focused magazines, the real estate section of your city's newspaper, online banner ads, and in-person bulletin boards. All provide avenues for reaching buyers looking for a home like yours. You will increase your chances of drawing them in if you pay the right pros to help you out. Since your house is already camera-ready, for example, hire a photographer to take professional photos for your ads. Yes, this can all get pricey. But, if few buyers know your house is even available, then the only thing you have saved by not using an agent is the chance of getting any offers.
Screen buyers before showing. You will need to show your house to prospective buyers in order to solicit favorable offers. But you'll want to be careful that you do not get taken advantage of. So screen any buyers before opening your doors to them. You do not have time to waste with anyone who is not serious nor do you want to jeopardize your safety. Show your home by-appointment-only to people, or their real estate agents, you have already talked to on the phone. Do not allow drop-ins and refuse to show your property after dark or when you are alone. To be especially careful, require a pre-approval letter from the mortgage lender prior to even setting the showing appointment. What you do not want to do is spin your wheels letting people into your home who have no intention of buying it, who simply cannot afford it, or who may actually want to do you harm.
Exercise patience. Depending on your local market, it can take some time to sell your house. Especially when you are doing a 'for sale by owner. Which makes having patience a virtue. As simple as this step sounds, it is important to remember. You will not do yourself any favors by letting the often slow, tedious process of selling a home yourself cause you undue stress. It is too easy to make rash decisions, like showing your property after dark, when you feel the pressure to sell fast. And, bad choices almost never lead to good sales.
Unfortunately, though each of these steps will improve your chances of attracting the right kind of buyer and mean you won't pay commission. They will not necessarily help you get your house sold quickly or for a price that you can live with. There is never a guarantee that you will find a prospective buyer who is both qualified to buy your home and interested in buying your home. That can end up making a 'for sale by owner' more trouble than it is worth. Unless, of course, you take your house directly to a pre-qualified buyer who pays fast and in cash.
Attract the Right Buyer Fast and Without Any Trouble
Osborne Homes is based right here in California and has been buying homes directly, and quickly, from homeowners across the state since 2009. We pay fair prices in cash, too—without charging a commission or fees of any kind. So, whether you have a home to sell in Marysville, Fresno, or down south in Anaheim. If you want to bypass the trouble of finding a qualified buyer fast. You should give us a call and let us make an offer. Then, if you like what we have to say, 100% of that offer is yours to keep.
Take just a moment to

contact Osborne Homes online

or by phone at

559-468-6149

for your all-cash offer today. It just might be the easiest step you take toward selling your home.