[vc_row][vc_column][vc_column_text]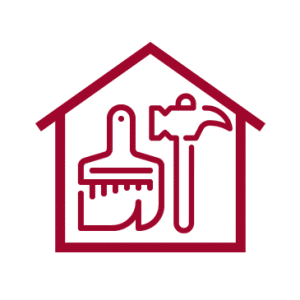 Selling a house is a big undertaking, and it can be even more complex when you're selling a home that needs major repairs. Most homebuyers are looking for a house that is move-in ready. So if your property is going to turn up expensive issues on an inspection—if it needs a new roof, new floors, or HVAC repairs, for example—it can be at a major disadvantage on the market.
But there are a few different options when it comes to selling a home that needs repairs. You may want to renovate the house before you sell it. You may list it without making renovations. Or you might sell your house directly to a real estate investment company.
Each of these choices requires different actions from you and can lead to different results, so you'll need to pick the one that best suits your situation.
Do You Renovate If Your House Needs Major Repairs?
A house in good condition will likely attract more potential buyers and sell for more money than one facing sizeable renovations. So you might want to fix yours up prior to listing it. But first, let's look at a few numbers to give you an idea of the financial commitment involved.
Roof replacement can cost upwards of $10,000.
An overhaul of the HVAC system can cost up to $7,000.
While the cost of replacing a floor varies widely by size and type of flooring, the typical California floor averages over $6,000.
And here's yet another sobering fact: few renovations provide a return on your investment. You need to identify which repairs may add the most value because, aside from a few carefully chosen renovations, many of the "upgrades" you give your house could be unrecoverable expenses. What exactly will pay off? It depends on your house's current condition and your local market. It's a tough call a lot of times, and you are almost certain to need expert advice to create a workable renovation plan. Talk to real estate agents to identify the most effective renovations, and then consult with contractors about the costs. It is a good idea to get three opinions on each issue to form a consensus before you take action.
Money spent on renovations could reduce the time it takes to sell the house, sure, but it requires an investment up front. You should consider the value of your time and labor as well as the money involved. Renovating would require you to take on the role of project manager, coordinating other people's complex activities, approving contracts, maintaining schedules—and subjecting yourself to significant stress. This will especially be a factor if you have family or professional obligations happening at the same time. If that's the case, you might want to consider selling your house as-is.
Should You List Your Home As-Is?
You can always put your house on the market without renovations. You are required by law to reveal problems with the property that you are aware of, but not required to fix them. Describing the property as "sold as-is" will attract buyers looking for fixer-uppers. They're hoping to get the most house for the buck, then customize it to make it all their own. But those buyers are few and far between. Even ones who start out with that intention often get cold feet, particularly if major structural problems surface. Home buying is stressful, and buying a home that needs major repairs is especially so. There is a natural tendency for buyers to overestimate the cost and effort involved in renovations, which works against you as the seller.
Another problem with selling "as is" is that the buyer may have trouble finding financing to buy your house. Banks are sure to insist on an appraisal of the property and, depending on the outcome of the appraisal, they could refuse outright to finance it, or may instead suggest a loan product with conditions that will be hard for the buyer to meet. The Fannie Mae HomeStyle mortgage and FHA 203(k) loan programs, for example, are available for renovation properties, but they have major hoops to jump through and require a large amount of paperwork.
You can avoid complications with banks and loans by listing your house as a cash-only sale, but that will reduce the pool of potential buyers even more, putting you at risk of a very long wait for a sale. That, combined with high California real estate commission rates, can mean a very low net price for you.
You could sell the house yourself, listing it on the market as 'for sale by owner' (FSBO). While that is certainly a low-cost option, it has a different set of demands. The expenses and stress of listing and marketing your home, holding open houses, and navigating contract negotiations can quickly add up. That, combined with an "as is" designation, could make selling your home that needs major repairs a very challenging experience. There is an alternative to the hassle of selling your house on the open market: selling it to a real estate investment company.
How to sell a house in need of repairs to a Real Estate Investment Company
Instead of renovating your house, or placing it on the market at all, you can sell it to a real estate investing company. Their offer will be lower than what you could ask for your home on the traditional market, since they need to consider their investment's profitability, but the streamlined process can still make it an appealing and preferable option. Once you contact them, they'll make you an offer quickly and, if you accept it, you can usually receive payment within days, rather than weeks or months. Also, a real estate investment company can expedite or bypass the appraisals, inspections, and other steps traditionally associated with a real estate sale. This is possible because investors have cash on hand, so they are not forced to wait for a lender to approve funding for the deal.
The only caveat: know who you're dealing with. A house is an enormous asset, and possibly the most valuable thing you own by far. You want to find a real estate investor you can feel confident in. Look for one with a long record and a good reputation, that makes you feel heard when you talk with them.
Choosing Your Home Sale Strategy
Like so much in life, the choice of how to sell your house comes down to time and money. Comparing your options side-by-side makes the contrasts clearer, and might help you find your best course.
Pros

Cons

RENOVATING

May be able to sell home for more money

Might draw in more buyers, increasing chance of a fast sale

Labor intensive

Coordination/ contractor management required

Must spend money before home sale

Unlikely to fully recoup renovation costs

Uncertain and potentially lengthy sale timeline

SELLING AS-IS

Save money by avoiding renovations

House can go on the market immediately

Still have incidental home sale costs and fees

Likely sells for less without renovations

Fewer buyers interested in "fixer-uppers"

Fewer financing options for potential buyers

Uncertain and potentially lengthy sale timeline

If selling FSBO: lots of extra work

SELLING TO AN INVESTOR

No money spent on renovations or incidental sale costs or fees

Fastest option—no time spent on renovations or negotiations

Minimal effort and time required of the seller

Investor's offer will be less than what you could list the house for on the traditional market
Renovating your house, as we see, will take a good deal of both time and money, but it will likely give you the biggest return. Listing it as-is looks like a bit of a gamble. You may find a bargain hunter just waiting to buy your house. Or you may not. Selling to a real estate investing company will simplify the sales process and can speed it up considerably, giving you a fair price for your unrenovated house without requiring further steps from you.
And that's what we do. Osborne Homes is a family-owned business that has been operating since 2009. We buy houses in any condition and often make an offer within 48 hours of contact, with no pressure or obligation from you. Best of all, if you accept our offer, you can receive payment in as few as seven days.
If you're selling a home that needs major repairs, contact Osborne Homes online or give us a call at

559-468-6149

today to see if we're the right fit.
[/vc_column_text][/vc_column][/vc_row]