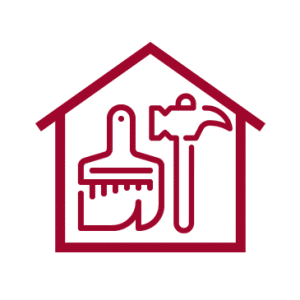 Saying goodbye to your home can be an emotional experience, even if you're moving on to greener pastures. Not only will you have memories to process and people to see as you plan your move, but you'll also have several tough decisions to make about the sale itself. Choosing a real estate agent to represent you is one, and California's real estate commission rates may influence that decision.
Setting the price for your home is another. But, answering the question "should I fix up my house or sell as is" especially if it's in need of a lot of work, is one of the tougher choices you'll have to make. There are several factors to consider and they all have the potential to positively, or negatively, impact whether your house sells. To determine which option is best for you, it's helpful to take a closer look at each.
Is Fixing Your House or Selling It As-Is the Best Option?
There is one main benefit to renovating your house before putting it on the market: your efforts could lead to a higher sale price. Fixed up homes usually attract more potential homeowners. And the greater the buying buzz surrounding your house, the better your chances are of receiving competitively priced offers. If your local real estate market is considered an up-and-coming or a hotspot of home-buying activity, like Stockton and Fresno, you might even get offers that are well above the list price from multiple parties. The potential to earn more—even more than you ask for—on the sale of your home shouldn't be taken lightly.
Keep in mind, however, that renovating a home comes with drawbacks too and these should be carefully weighed as well. Let's take a closer look at what these drawbacks are:
Renovations are expensive
Whether your house needs major repairs or a minor rehab, the cost to renovate it could shock you. For example:
Structural issues, like foundations that are not bolted or braced, can cause cracks in the walls, windows and doors that stick, and sagging floors, all of which can scare a potential buyer away. But, replacing a foundation can cost upwards of $15,000—and that's not including the work you still have to do on the other areas in the home that suffered collateral damaged.
Updating or replacing electrical systems are also pricey, typically costing anywhere between $5,000 and $25,000 depending on whether one component or the entire system needs to be revamped. Yet, because many systems in older homes aren't equipped to handle the output of newer electronics, a modernized electrical system is critical to enticing today's home buyer.
Minor issues, like leaky faucets, old carpeting, and outdated appliances, are each relatively cheap to fix on their own. Plumbers may charge as little as $45 per hour and new carpeting can cost as low as $30 to $40 per square yard. The combined costs of all your minor repairs and updates, however, can still put a sizeable dent in your pocketbook.
While you can prioritize which issues are the most important to fix, it doesn't always make sense to repair some while ignoring others, even if the costs seem high. Buyers who notice stains in the flooring or scratches on the cabinetry will often assume there's a lot more wrong with a house than there is right—and walk away. So, if you're going to fix it up, you might as well fix all that you can to get the most potential out of your sale price.
Renovations take time
It also takes a considerable amount of time to renovate a home, so you'll need to plan accordingly and think about hiring some help. On average, you can expect to spend several months fixing a house—and that's with a team of professionals working diligently to get the home in tip-top shape. If you decide to do some of the work yourself to save money, it could take even longer. Of course, performing minor updates, like adding a fresh coat of paint and new fixtures, won't drag on for nearly as long, but your bump in asking price also won't be nearly as high either.
To get the most bang for your buck, you will want to take the time to carefully research and interview local contractors, handymen, and other experts to ensure you hire a reputable and affordable rehab team. Expect that the best pros will be in high demand and that they may not be able to get your house on the calendar as soon as you'd like. If you're under the gun to sell your home, this can turn problematic if a six-month renovation doubles to 12 because your contractors are obligated to finish other projects before yours. In the end, the extra time you need to complete the rehab may simply add up to more stress.
Renovations can fail to boost sales price
Unfortunately, even when you decide to invest the money and time into a renovation, there's never a guarantee that you'll come out ahead. In Fresno, for example, the typical cost of renovating a house with more than one bedroom can cost upwards of $40,000. Of course, a lot of the cost for rehabbing will depend not only on the size of the house, but the age, style, and whether it is up to code. So, your asking price will have to reflect at least as much as you invested in the repairs plus the additional amount you were hoping to earn by performing the rehab in the first place. To put the odds in your favor, ensure that the home's potential increase in value exceeds the estimated costs to repair—before you begin any renovation work.
Even if the numbers seem to add up, it's still a risk to fix a house before selling no matter what the initial numbers say. Renovation costs tend to run higher than expected and there's always the potential that a surprise issue—like the presence of mold—will be discovered, causing your budget to be overextended. It's also possible that by the time the house is ready to go up for sale, property values will have cooled. If the market value of your house doesn't then cover the high renovation cost, you could find yourself in the red instead of the green. That's a risk you may not be able to afford to take.
What not to fix when selling a house
Your other option, of course, is to skip renovating altogether and try to list your home for sale as-is through a real estate agent. By doing so, you can save yourself considerable money, time, and hassle. You won't have to spend any of your own money on the rehab, nor will you have to wait to put the house up for sale. Instead, you can sit back and see how the response to your home unfolds on the open market.
But, selling your house as-is can be tricky because, depending on what kind of shape the house is in, you could get few, if any, offers. Sometimes it's simply hard for traditional homebuyers to imagine themselves in a house that's not updated. More often than not, however, they're reluctant to take on the expense of doing any renovations themselves. After all, their bank accounts often get emptied just from putting a down payment on a house. Realistically, finding a way to finance a rehab in addition to the purchase price of the home is not in the cards for most home buyers. So, any offers you do get from these buyers will likely be much lower than you'd hoped for, or need, since they'll also be considering the expensive costs to repair and the hassle to do so.
Avoid Renovating and Still Get a Fair Price
Still, it is possible to avoid the costs and risks associated with a renovation and get a fair price for your home. Osborne Homes is a family owned and operated real estate investment company that buys homes for cash as-is throughout 16 California counties. Whether your house needs just a few minor repairs or a major overhaul, we have the tools and the resources to take it on—and we want to. We also want to make the process of selling your home as easy and as fast as possible, since we know the experience is emotional enough as it is. That's why we offer a fair cash price and can often pay in seven days or less. It's how we've treated home sellers since 2009 and it's how we'd love to treat you too.
Save yourself the hassle of renovating or risking the market with a fixer-upper by selling your house as-is for cash-in-hand. Get in touch with

Osborne Homes online

or give us a call at

559-468-6149

today.